Fuel storage tanks from Walsh Service Solutions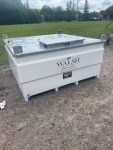 WSS provides mobile, transportable, and stationary ​above ground fuel tanks for easy fuel access right at your site or facility. Increase productivity and cut down on costs by reducing downtime and fuel spent driving to and from gas stations. On-site storage tanks optimize supply management and fueling operations for clients of all sizes in the commercial, industrial, agricultural, and governmental segments.
Easy fuel access right at your own facility or work site
Various sized fuel tanks available for immediate delivery
Pumps, nozzles, hoses, and optional wireless monitors and fuel management technology
Potential tax savings for off road fuels
Sales and rental options available
Dependable, on-time delivery and customer service 24/7/365
Call WSS today to run a customized on-site fueling cost calculation to evaluate your opportunity for savings!
Types of Tanks Available
132 – 1,242 US GALLONS | 499 – 4,700 LITRES
The TransCube Global is a line of transportable, environmentally friendly double-walled fuel storage tanks that offer an efficient solution for onsite fueling and auxiliary fuel supply. With its fully transportable design and ability to fuel up to three pieces of equipment simultaneously, a TransCube will save you time and can double or triple the run times of your equipment.
260 – 729 US GALLON | 985 – 2,761 LITRES
The Abbi mobile refueler is a line of double-walled fuel storage tanks known for their transportability and ease of use. Fully approved for transport when full, the Abbi storage tanks are well suited as a mobile refueler, traversing around jobsites to refuel machinery and equipment onsite.
243 – 1,016 US GALLON | 921 – 3,846 LITRES
The FuelCube is a compact and economic stationary fuel tank designed for onsite fuel supply and fleet refueling. The FuelCube includes features such as an integral, lockable equipment cabinet for security and 4-way forklift pockets for easy mobility when empty.
4,966 – 12,329 US GALLON | 18,800 – 46,672 LITRES
The EnviroCube offers you superior security and versatility for stationary fueling applications. Featuring a full-height, lockable cabinet with additional shelving space and secure hose access, the EnviroCube is a cost-effective yard tank. Ideal for fuel distributors and their customers, including fleet operators
2,510 – 4,887 US GALLON | 9,500-21,250 LITRES
The TransTank Global is a fully transportable, double-walled line of fuel storage containers that are designed for bulk fuel transfer and emergency fuel supply. Built to ISO container dimensions, a TransTank Global allows for simplified shipping by road, rail or sea.